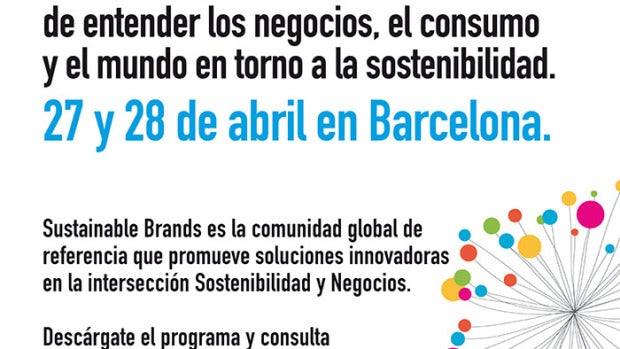 Atresmedia is the media partner of the biggest business and sustainability  encounter that will combine one hundred entities
Sustainable Brands, the biggest global encounter on sustainability applied to brands will be held for the first time in our country next week, on 26, 27 and 28 April in Barcelona. Atresmedia will be the media partner of the event, for which one hundred entities including, companies, NGO's, public sector and institutions have already confirmed their attendance.
Aimed at connecting and sharing thoughts and ideas that, ultimately, must lead to sustainable trade and consumption models, managers of companies such as Cisco, Levi's, Patagonia or Lego will explain how sustainability has nothing to do with philanthropy, but with the creation of markets and the bonding and involvement with citizens and consumers.
With them, Ford, Acciona, Basf, CaixaBank, Ecoembes, NH Hoteles, BricoDepot, O5, Servis, IESE Business School or the Barcelona City Hall, in addition to ATRESMEDIA, are some of the organizations that, committed to sustainability as part of their corporate strategy, have decided to support this first Edition of SUSTAINABLE BRANDS in Spain as the flagships of the values supported by the event. Antena 3 and laSexta will gather the main ideas emerging from this forum through their news broadcasts.
The first SUSTAINABLE BRANDS in Spain, which can be discussed live in Twitter under the hashtag #sb15bcn, will serve to gather and extend the SUSTAINABLE BRANDS community, which on a global level encompasses almost 350,000 business leaders from innovative companies and brands that are shaping the future of businesses worldwide.