ATRESMEDIA RADIO
ATRESMEDIA RADIO
Atresmedia Radio: Credibility, viewpoint diversity, sensitivity to audience concerns and content variety
Atresmedia's recognition as a pluralistic and diverse multimedia group aligned with the concerns and interests of society is largely thanks to the work that Atresmedia Radio has been carrying out. Through its three flagship stations — Onda Cero, with more than 30 years of experience, Europa FM, a national treasure when it comes to music radio, and Melodía FM, aimed at a more adult audience— Atresmedia offers a complete range of information and entertainment for radio lovers.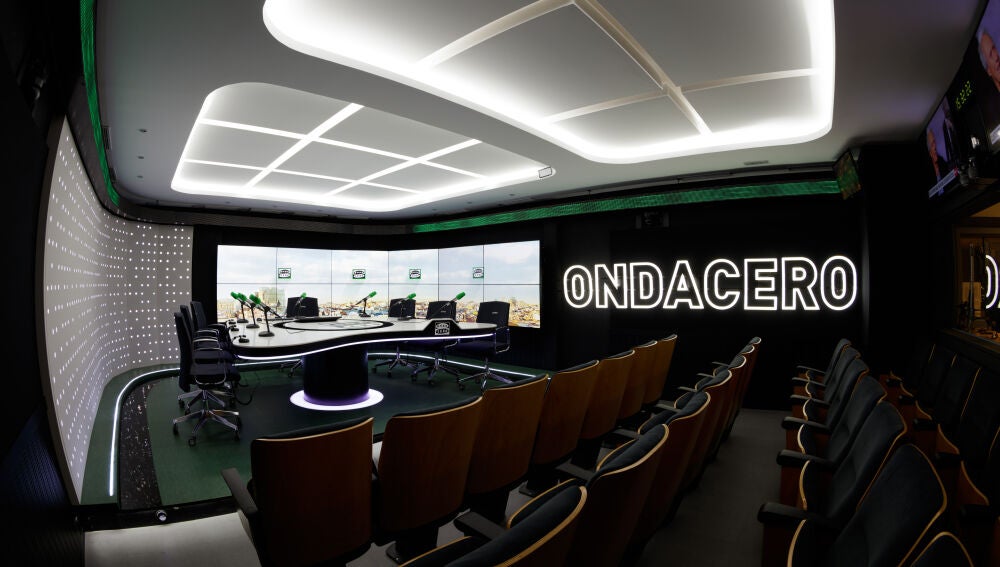 Sonora is Atresmedia Group's new commitment to audio content. An original, exclusive and premium entertainment platform that the Group aims to turn into a disruptive digital audio listening experience, all through an app that redefines the way people interact with content. Sonora also seeks to attract the finest creative talent in the country. Its roster currently includes fabulous content creators such as Isabel Coixet, Kiko Veneno and Pancho Varona, to name but a few. In the year of its launch, Sonora amassed more than one hundred complete productions, including audio films, series, documentaries and programmes, and thousands of hours of audio that is only available via the platform.
Over the years, Atresmedia Radio has been guided by the following principles, which have allowed it to grow and attract more listeners with every day that passes:
• Innovating to offer listeners fresh and attractive programming.
• Ensuring independence, viewpoint diversity and credibility.
• Preserving the best of conventional radio: closeness to the audience and engagement.
• Adapting to the new features of the radio medium in the 21st century.
• Supporting the community commitments acquired by the Group.
In 2022, Atresmedia Radio achieved 2.6 million listeners across its three stations, with Onda Cero continuing to lead the group with 1,774,000 listeners; the division's music stations attracted 822,000 listeners, of which Europa FM accounted for 731,000.
The radio stations of Atresmedia Group also reported growth in digital audiences. Onda Cero surpassed 5 million unique users in December 2022, up 28.4% in audience numbers compared to the previous month. It is the fastest growing radio station among its competitors, both in percentage and absolute terms, and this is a result of the sheer variety of content and approaches within Onda Cero's programming. Meanwhile, europafm.com grew to 845,000 unique visitors, thanks to its ongoing commitment to Cuerpos especiales, the morning show of the new Europa FM, helmed by Iggy Rubín and Eva Soriano; to the arrival of Chenoa on Tómatelo menos en serio and, it goes without saying, to Tus éxitos de hoy, tus favoritas de siempre.
Onda Cero: credibility and proximity
Onda Cero has remained true to its strategy, continued to rely on its strong programming and roster of presenters, and remained faithful to well-known figures such as Carlos Alsina, Julia Otero, Jaime Cantizano, Edu García and Rafa Latorre, the new director and presenter of La brújula. It has also continued to place its trust in radio formats with a proven track record, such as Más de uno, Julia en la onda, Por fin no es lunes and Radioestadio. All of this, while upholding the virtues of credibility, plurality and proximity for which it is known.
Onda Cero also began the year with a big target in its sights: to spend more time on local and regional information, in a clear commitment to proximity and close contact with its listeners. This initiative has enriched local communities both economically and socially, as all the channel's stations are now airing local, provincial and/or regional content from the early hours of the morning throughout the day.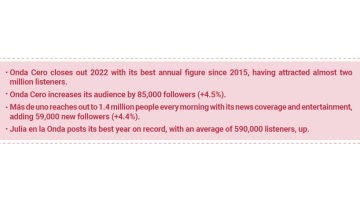 The new Europa FM
Atresmedia Radio's commitment to music evolved in leaps and bounds throughout 2022, with Europa FM acquiring a new look and embracing a new musical formula.
Europa FM favours an eclectic mix of music, as it seeks to convey positivity to its listeners. One of the biggest challenges facing the station right now is adapting to a society in continuous change, accompanying it while steering its own course and building its own identity.
To succeed, it has continued to focus on programmes presented by the likes of Ricky García, one of the leading figures in music and radio broadcasting and creator of some of the most unique sound identities of Spanish radio, who joined the Europa FM roster of DJs during the period. The year also witnessed the launch of Tómatelo menos en serio, a branded programme aired on Friday and Saturday mornings, thus building on the success of already firmly established programmes such as Cuerpos Especiales, helmed by Eva Soriano and Iggy Rubín, the most innovative and entertaining morning show on Spanish radio, which launched a new season in 2022.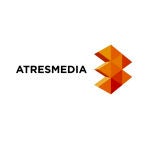 Atresmedia
| Madrid | 10/06/2020