XII COMPANIES SOLIDARITY DAY
XII COMPANIES SOLIDARITY DAY
The Companies Solidarity Day consolidated in its 12th edition as a landmark of corporate volunteering in Spain, beating new record of participation
The Companies Solidarity Day (CSD), organized by Atresmedia and Cooperación Internacional NGO, has become a benchmark for corporate volunteering in Spain after celebrating on October 20, 2018, its twelfth edition simultaneously in 11 cities: A Coruña, Barcelona, Las Palmas, Madrid, Malaga, Seville, Tenerife, Valencia, Valladolid, Vigo and Zaragoza.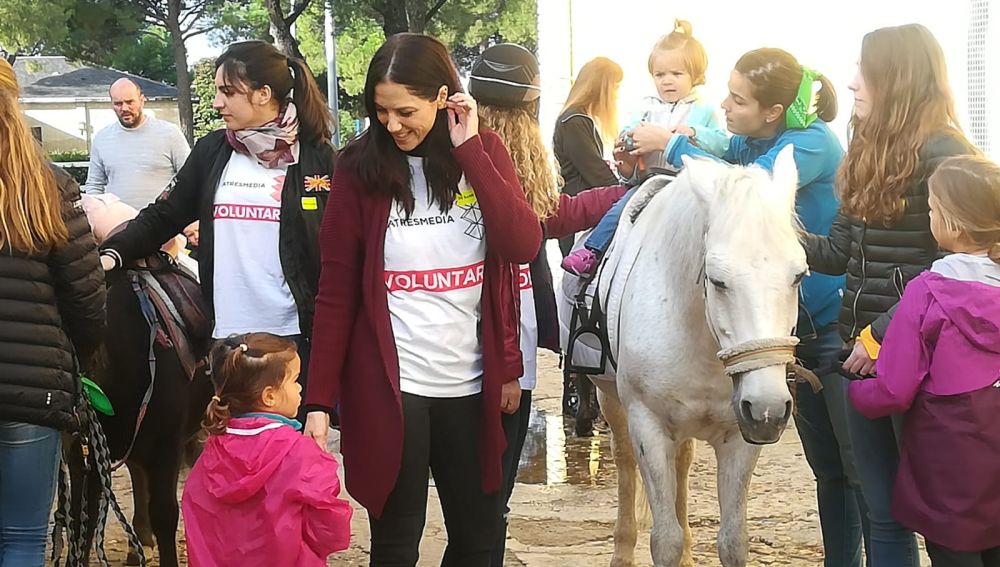 This solidarity day is focused on promoting corporate volunteering and raising awareness of the real problems of the environment. The workplace, where so many daily hours are invested, can also be a space to channel the interest of employees to take part in social transformation and strengthen their solidarity concerns.
Besides having grown in number of registered cities, the CSD has also broken its historical record of participating teams, with 109 groups nationwide, 55 of them in Madrid and 12 in Barcelona. In total, about 1,200 employees of 50 companies have participated one more year, encouraging companies social commitment through volunteering as a powerful tool for social transformation, and also contributing to achieving the Sustainable Development Goals proposed by the United Nations.
The numbers speak for this reference day of corporate volunteering, since there has been a gradual increase in participation year after year. From 2017 to 2018, the number of companies registered has increased by 20%, and by 30% the new participating entities.
Also the influx is relevant because, in the year-on-year comparison, 82% of companies and entities have renewed their participation, while there are 14% of new companies participating this year for the first time.
In this edition of the CSD, the participation of SME has increased by 40% compared to the previous year. This type of companies represent 10% of the total companies participating this year in the CSD.
Multitude of activities in favor of different groups
During the morning, the volunteers have collaborated in many solidarity activities and have accompanied different vulnerable groups as homeless, disabled people, people with mental illnesses or elderly people. They have also been involved in environmental projects and leisure activities with children and young people at risk of social exclusion, such as indoor football matches, craft workshops, visits to the National Museum of Science and Technology or a climbing wall.
To make this great event possible, Cooperación Internacional NGO and Atresmedia, organizers of the day, count on the contribution of numerous non-profit organizations that each year open their doors for corporate volunteers to collaborate with their beneficiaries. Among them, Ademo Foundation, ONCE, Autism Sevilla, Amás Group, ICEAS Association, Valencian Geriatric Institute, Urban Angels or Special Olympics.
As a novelty this year, the Companies Solidarity Day proposed a contest to participating volunteers to share on Twitter their favorite photos of the day, along with their co-workers or other teams of volunteers with the hashtag #DiaSolidario18. The prize for the five winning photographs consisted of visiting the famous television show of Antena 3 "El Hormiguero 3.0".
Rafael Herraiz, director of Cooperación Internacional NGO, affirms that "in these twelve years organizing the Companies Solidarity Day, we have seen the corporate volunteering increasing edition after edition. And we believe that this is a very effective way to transform society from the inside, in which everyone wins: volunteers, company and beneficiaries. We are delighted to see that companies are more socially sensitive and more willing to commit to the needs of their environment. "
Susana Gato, Corporate Responsibility Manager of Atresmedia, highlights "it is very gratifying to see that corporate volunteering has become in recent years a strategic tool, which not only allows employees and companies to be sensitized about the social challenges that surround them, but also helps in the management of human resources of organizations and promotes the transfer of knowledge to entities that need the professional skills of volunteers. "
José Díaz, one of the volunteers of the Companies Solidarity Day, has assured: "Sincerely, I have to thank my company, Mutua Madrileña, Cooperación Internacional NGO and Atresmedia very much for the volunteering activities they organize. They make it very easy for us to contribute our bit. Thanks to initiatives such as the Companies Solidarity Day we can reach more groups that need our help. And these groups give us a lesson in life every time we go to their calls as volunteers. I wish that more and more companies have this type of programs and, together, we make a happier world and above all, a world where we are all one. "
Abanca, Aedas Homes, Andbank, Atresmedia, Autogrill, Spanish Cooperative Bank, Bankinter, Baxter, BSH, Citytime, Coface, Hijos de Rivera Corporation, Cuatrecasas, Deloitte, Deutsche Bank, DKV, Enagas, Endesa, Fidelity, Garrigues, Gestamp, Global Spedition SLU, Ibercaja, Indra, Initec, INNOCV, King & Wood Mallesons, La Caixa, Maxxium Spain, Madrid Metro, MGS, Minsait, Mutual of Owners, Mutua Madrileña, OCU, Praxair, Pullmantur, Reale Seguros, Red Eléctrica Española, Redsys, Sacyr Fluor, Santalucía, SAP, SPB, Tragsa, UCI, European University, Ventura 24, Verallia, Viajes El Corte Inglés.
Participating social entities
Ademo, Adisfim, AIS, Albergue Sta María, Albertia, SOS Children's Villages, Open Hands of the Nations, Friends of the elderly, Friends of the Alamillo Park, Urban Angels, Antares, APAMA, Apnee, Equitation Association as therapy, Association Fontaiña, Association Mangas Verdes, Asociación Reienda Amiga, Asociacion Tinerfeña de multiple sclerosis, ASPACE, AFOPRODEI, Asociación Mar de Fábula, ASPRONAGA, Autism Sevilla, Food Bank, Best Buddies, Economic Cuisine of La Coruña, Social Dining Room Nª Señora del Rosario, International Cooperation, EVD Residencia Intellectual Disability, Feddig2008, Divine Providence Fraternity, Acollida i Esperança Foundation, Atria Foundation, Fundación Barró, Fundació Boscana, Fundación Catalina Suárez, Don Orione Foundation, Doña María Foundation, Espurna Foundation, Padre Garralda Foundation, Juan XXIII Foundation , Manantial Foundation, Virgen del Pueyo Foundation, Amás Group, ICEAS, Valen Geriatric Institute ciano, La Merced Migraciones, La Obra de la Señora, ONCE, Leo Kanner, Miraflores Educational Park, NAIF, Pai Menni, Nostra Casa Residence, Special Olympics, Living Territories, Valdeperales and Yuna.
Antena 3, Onda Cero, laSexta, Corresponsables, Capital Radio, Capital Humano, El Economista and El Observatorio de Recursos Humanos.
Atresmedia | Madrid
| 22/01/2019